Hazardous Area Lighting - EX Lights For Zone I & Zone II
Portable Hazardous

Location Lights
For areas without a power supply such as the inside of tanks, or remote parts of a large shipyard, high output battery-powered lighting is essential to give full illumination to all areas for inspections, cleaning or painting. Where explosive gases or dusts might be present, your lights must be ATEX or IECEx.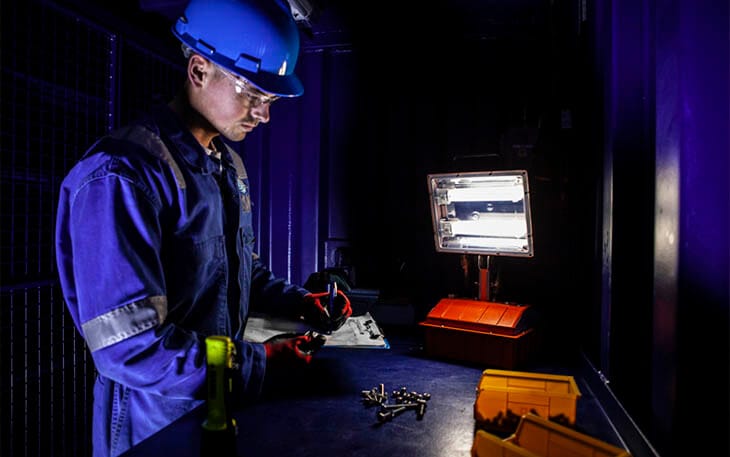 Portable lights need to be easy to carry in one hand. Apart from being easier on the arms, it is also vital for health and safety that workers can hold onto a handrail while carrying a lamp in the other hand.
Every portable light in BME Nitech's Guardian range weighs 9kg or less, making them one of the very lightest portable floodlights on the market.
Whether it's painting, construction work or inspections, portable lights without any trailing cables are safer and can be placed precisely where you need them to highlight specific features.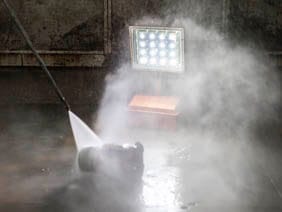 A bright, daylight-balanced output and long battery life makes the lights easy to work with for the duration of a whole shift.
Our portable lights can operate safely in both zone I and zone II.
Uses are not confined to heavy industrial sites, however. A recent BME Nitech project involved the provision of portable lighting for a whisky distillery in Northern Scotland.
Temporary Hazardous

Area Floodlights
For larger areas such as construction sites and which need bright lighting to enable work to continue after darkness falls, our temporary floodlights, suitable for use in zones I and II, are ideal.
Because they include magnetic and clip mounts they can be attached to scaffolding, rails and walls or can use robust floor stands to be placed exactly where they are needed. The ability to link up to ten lights together from one power source enables you to illuminate a large work site with the minimum of dangerous cables and arrange the lights exactly where you need them the most.
ATEX and IECEx certified, our Pioneer LED floodlights are suitable for potentially explosive environments such as petrochemical plants and are used regularly by BAE and the MOD for major shipbuilding projects.