BME Nitech has made a senior appointment to take the business to the next level.

Graham Donnelly has been appointed business development manager to lead the expansion of the firm's innovative hazardous area temporary and portable lighting products in the UK and internationally. Graham has 17 years' strategic sales and BD expertise.

BME Nitech is predicting a bright future for its innovative industrial lighting solution after investing £1million in a product development programme.

Designed in-house by BME, its full range of lights are manufactured in Aberdeen with all product materials purchased from British companies.

The innovative products took more than three years to develop and have already been adopted by North Sea operators, fabric maintenance firms, shipyards, refineries, distilleries, emergency services, the aerospace industry and other sectors. The lights were formally launched at the start of 2020.

BME Nitech's temporary and portable lighting products, which includes a range suitable for use in Zone 1 hazardous areas, represent an upgraded and more cost-effective option than others on the market.

Scot Borland, managing director at BME, said: "The addition of Graham to the team is the latest step in broadening the reach of our lighting products. We're very proud to say we've developed a lighter, brighter and better product that is British-made and already being used globally by some of industry's biggest names. We're delighted to have someone of Graham's expertise on board as we look to move the company forward."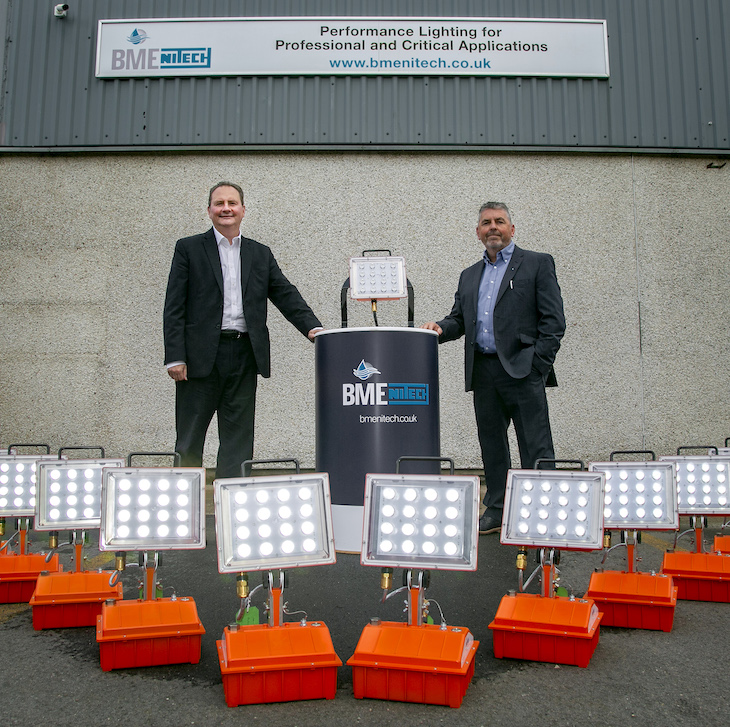 Graham, who previously ran his own business development consultancy, said: "The chance to be a part of this innovative business and take it to the next level is a fantastic opportunity. There is a huge gap in the hazardous area temporary and portable market. We have an amazing product – one with outstanding cost and efficiency benefits as well as a customer-focussed aftermarket service.

"It's now a case of getting decision-makers to realise there has been a step change in this area of the supply chain and make BME Nitech the go-to temporary and portable lighting product."

Graham's successes in the past includes securing and running lucrative rental partnerships in Europe, Africa and the Caribbean. He is already in discussions with a number of companies to agree international distributor agreements.
BME Nitech attained certification from Intertek for the production of its Zone 1 lights. In addition, BME Nitech attained ISO 9001:2015 and ISO 80079-34:2018 EX for the quality of its systems.
BME Nitech says its Zone 1 product is lighter, lasts longer at full power and has a significantly increased battery life compared to others on the market. The Guardian light is impressive – 9.3kg, 3,000 lumens at source; 16-hour battery life on full power and 1,200 recharges from empty.
The Guardian rechargeable portable light – available in LED (light-emitting diode) and CFL (compact fluorescent light) options – and the Pioneer, a 110-volt temporary light, are both products for the hazardous Zone 1 and Zone 2 markets. They are ATEX and IECEx certified. The Aurora (portable) and Galaxy high-temperature rated (temporary) range are for non-hazardous industrial requirements.

Lights are used in areas without a power supply such as tanks, remote parts of a large shipyard, offshore installations, or areas where high-powered illumination is required for inspections, cleaning and painting.

BME Nitech lights can be attached to scaffolding, rail walls and floor stands. Furthermore, there is the ability to link up to 10 lights with minimal use of cables. Clients include British Airways, Kew Gardens and the Pakistan Navy. The lights are available to buy or rent.

The BME group of companies also includes BME Services, a leading helideck refurbishment services provider. It offers a turnkey service from survey, drawings, coatings removal, inspection, coatings and markings application and friction testing with certification to CAP437e8. Using Blastrac surface preparation equipment, BME Services also offers full deck and walkway service, as well as car decks and flight decks. In addition, it has an industrial wash-bay service and NORM decontamination operation.

BME Group launched BME SK Hydraulics in late 2019 to provide a mobile and workshop-based bespoke hose manufacturing service with hose management and tagging systems. All the companies in the group are based at its Bridge of Don site. BME Group has a staff of 24.

For more information contact This email address is being protected from spambots. You need JavaScript enabled to view it.